A wedding is one of the biggest events of anyone's life and if you're lucky, you'll only ever get one so the special day really should be how the bride has dreamt about it since a little girl! From the dress to the cake, the flowers to the favours, each little detail should scream perfection and be stamped with the personality and wishes of the loved up couple! And one of the most important aspects is the colour scheme which flows through the entire occasion from start to finish!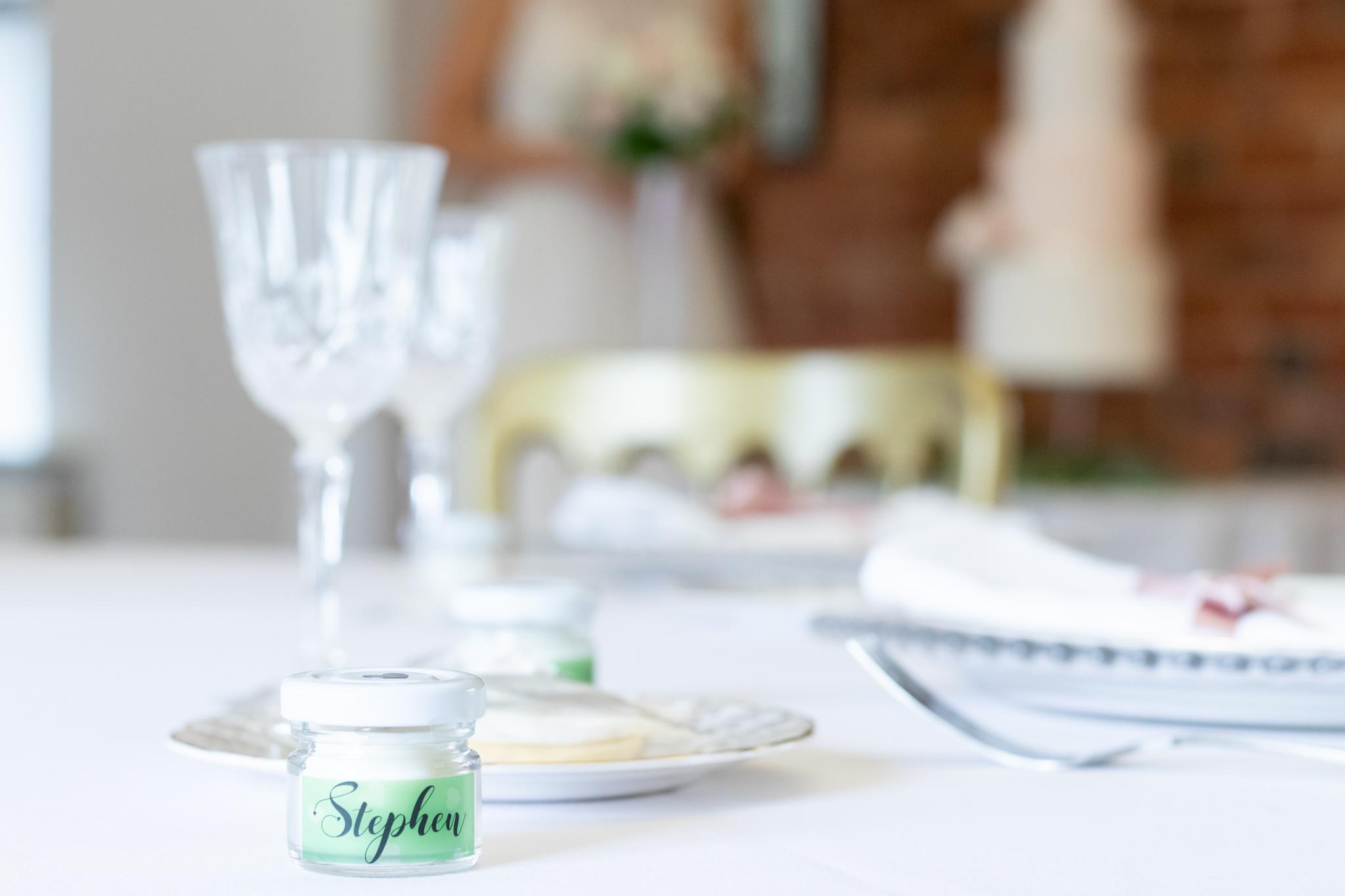 Image: Emma DB Photography
One of the biggest wedding colour trends 2020 will be mint. Yep, this pastel shade is predicted to be at the forefront of fashion and interior design next year and it's no surprise – it's a gorgeous gender-neutral colour which is soft, fresh and clean and perfect for those nature loving couples. Of course, here at Kiss Air we offer our personalised mini jam jar wedding favours in a range of hues and mint just happens to be one of our best-selling!
Of course, if you prefer a more luxurious look that would be fit for a king and queen then purple is the wedding trend colour for you! Not pink, not lilac but more a dark, greyish purple that fits in perfectly at rustic styled weddings. This darker colour really does have a big personality that will make a big statement about the special day – just think royalty!
Maybe mint is a little too cold for you and deep purple is a little too rich – no need to fear, both peach and yellow are on the wedding colour trends 2020 list and both scream out with happy and joyous vibes that will have every guest smiling. After all, a wedding day is the happiest day of your life and so these sunshine colours will fit in perfectly at those height of summer weddings where the sky is blue, the grass is green and the wedding pictures are picturesque.
Recently, we were lucky enough to attend a styled wedding shoot. The colour scheme of the day was combined two of the trends neo-mint and cassis that brought a bohemian, rustic styled wedding indoors…. and it was stunning! Everything fitted with the rustic theme whilst having the green and purple flow through the room including on our colour coordinated personalised votive name place settings that were on every table. It really was a delight to see the room transform into a wedding dream and really showed how much impact a strong colour scheme can have.
Here at Kiss Air we love being a part of someone's special day whether it be a "will you be my bridesmaid?" gift candle that starts the wedding planning ball rolling, our personalised wedding favours that double as a name place setting to complete the dining tables or our Mr and Mrs candle that the newlyweds have received as a personalised wedding gift to mark the day. We are always honoured when someone entrusts us to provide the perfect detail needed for their wedding so you'll always find something that matches your wedding colour!
Until next time,
Laura