Hurrah! After what seems like months of rain cloud filled grey skies the sun is shining, the daffodils and crocuses are in bloom and we think spring may have finally sprung.
As the season changes the days become longer and temperatures start to rise (we hope!) making it the perfect time to change up your home fragrance. So put away those heavy, comforting spicy scents and say hello to light, fresh scents that will put a spring in your step. Not sure what scents to opt for? Here are my top three picks…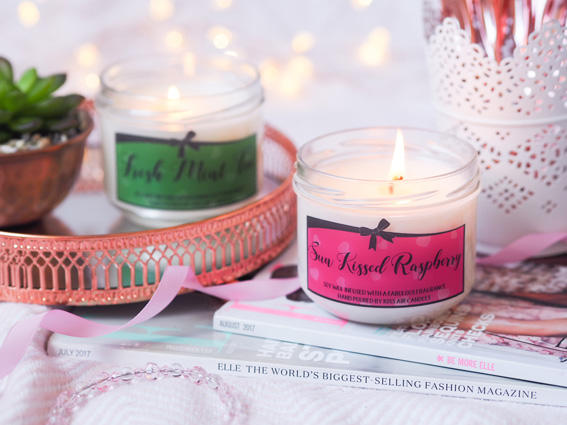 An oldie but a goodie, Sun Kissed Raspberry has been in the Kiss Air collection since day dot and that's because it's such a lovely of fragrance of fresh raspberries slowly ripening in the sunshine. It's not a strong fragrance, just a soft fruity scent that delicately fragrances your home. The lovely Kate at kateloves.co.uk says "…it [Sun Kissed Raspberry] honestly smells gorgeous, it's definitely the perfect scent to burn with spring finally here!"
If you are looking for a scent that is super fresh then Fresh Mint Tea is for you! It's a strong scent of crushed mint infused with white tea and is a must-have this spring to bring a refreshing aroma to your home. Instagrammer @_my_home_is_my_comfort_ commented saying "Love this scent…so fresh".
Fresh Mint Tea is our April candle of the month so you can get it for just £6.75 – that's 25% off until April 30th!
When you think of spring, you immediately think flowers so my last pick is a new fragrance for 2018 and it's Pink Peony. This candle combines notes of peonies, red apple and amber to create a gorgeous, strong floral aroma that is perfect to fragrance your home from spring right through to late summer. Celebrity baker, Candice Brown shared a photo of this candle of her Instagram stories simply saying "loving this" and I couldn't agree more.
They are my recommendations but what scents will you be burning now spring is here?
Until next time, have a scent-sational day!
Louise
Gorgeous image: Kate Ballamy