Hello and welcome to the Kiss Air kingdom!
For all the newbies checking us out for the first time allow me to introduce us: we're Louise and Laura, sisters born and bred in Cambridgeshire, England and after 30 years we're still calling this place home!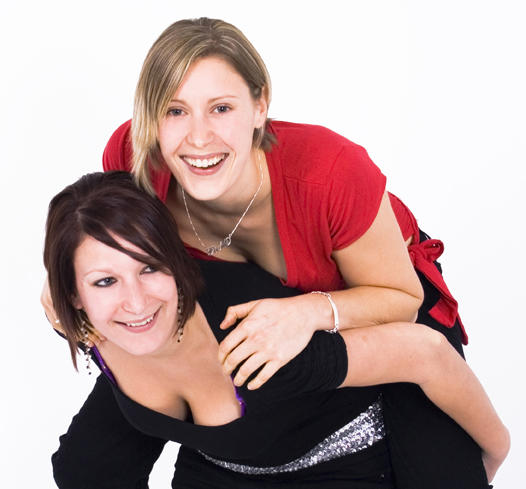 MEET LOUISE...(she's the one in black!)
Kiss Air is the brainchild of Louise, she's the creative go-getter with a tonne of PR experience who has not only created the Kiss Air candle we all love, but has also got our brand "out there" in some pretty awesome magazines and in the hands of some fab celebs. Now, everyone loves a good name drop so allow me….
We're talking publications like the Daily Mail, Metro and Wedding Ideas to name a few. She's conjured up a lot of celebrity love from the likes of Denise Van Outen, Gok Wan, Daniella Westbrook, Anna Passey from Channel 4's Hollyoaks and many more. She's also responsible for the accolades we've been super proud to have had bestowed upon us including Theo Paphitis' Small Business Sunday, Jacqueline Gold's Women on Wednesday and the #smallbiz100 government backed scheme. And that's not even mentioning our cocktail hour scented candle range getting shortlisted for gift of the year 2015 and the fact our candles were included in the 2016 British Soap Awards presenter goodie bags! Basically, Joan Collins has one!!!
HOW IT ALL STARTED...
Yep, Louise is pretty good at what she does so had absolutely no fear in taking the lead when we decided to create the perfect candle that not only smelt amazing but also burnt evenly, left no soot, was affordable, looked gorgeous, smelt of what the label says it should smell of and most importantly of all, could actually be smelt when lit!! That was always one of our biggest pet peeves - spending our hard earned cash on a candle that when shoved under your nose was a delight but once lit and set over the other side of the room, nothing! Hence we decided to make our own and after months of research and testing, we finally cracked the recipe for a perfect candle and voila, Kiss Air was born in March 2013! You can find out more about our fabulous candles here!
WHO IS LAURA?
Now, I know what you're thinking, "obviously Louise is the forefront of Kiss Air so what's this Laura got to do with it?" Well, good question! Laura is the one typing this (hello!) and I type this as my childhood obsession with Dean Cain in The New Adventures of Superman means I took a keen interest in writing stuff! Away from the keyboard I'm the logical one who can't make a decision without some whizzy spreadsheet filled with formulas, I'm the patient one who is responsible for all the intricate stuff and I'm the one who after an alcoholic beverage or two can come up with the occasional good idea!
Louise and I are chalk and cheese – totally different but we have one really important thing in common (besides parents!) and that is hard work! We're not afraid of putting the hours in and bringing our different skill sets to the table, it means between the two of us we have managed to cover all the bases to put Kiss Air where it is today.
KEEP IN TOUCH
So that is all about us! Louise and I know everything and anything about Kiss Air and our products so if you have any burning questions do drop us line and make sure to give us a follow on Facebook, Twitter and Instagram.
It's been lovely "meeting" you, now go fill your cart with all things Kiss Air!
Until next time,
Laura